This article was supposed to be titled "The 5 best Netflix series to learn Spanish in 2022". The problem is that I LOVE Netflix and, of course, I start selecting series with different themes, different lengths, different accents…
And they are all good!
So, in this article, we are going to discover the 10 best series of this year 2022 in Spanish. But before we start, let's see how to get the most out of the time you spend watching series in the original Spanish version. Here are some tips that can help you:
Try to do it every day. This is one of the great advantages of the series. Many of them have episodes of 40 – 50 minutes. If the episodes are a bit longer, you can watch half or watch every other day. I always recommend a high frequency with a medium to low intensity to keep your Spanish in shape.
Choose themes that you like. If you watch a mystery, police, romantic, comedy series… and you like it, it won't cost you any effort to sit down for a little while every day to watch it. On the contrary! You will be looking forward to your moment of television in Spanish.
Try mixing accents. Try to watch series from Spain, Mexico, Colombia, Argentina… so your listening will get used to the richness of accents (and vocabulary) in Spanish.
Use the subtitles. If you are a beginner or an intermediate level student, I advise you to use subtitles. So, you can see the written words at the same time that you hear them. If you are a more advanced level student, you can easily watch the series without subtitles.
Now yes…
The show begins!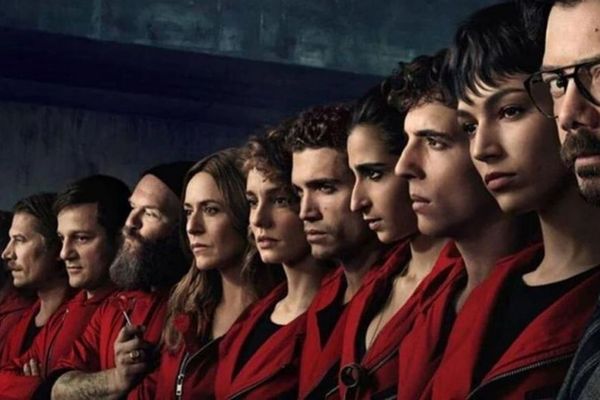 The best shows to learn Spanish
We start with the best series to learn Spanish that have premiered seasons in this year 2022. These series are veterans and have been on screen for several years. Therefore, if you like any of them, you have a large number of episodes to watch.
La casa de papel (Money Heist)
Exactly. It could not be otherwise. We start with the most successful Spanish series of all time. I know this series ended on December 3, 2021, but it deserves the top spot.
It has three seasons that have been broadcasted in five parts. The main actors are Úrsula Corberó, Itziar Ituño and Álvaro Morte. The series is inspired by the life and miracles of bank robber Willie Sutton. This genius devised more than 100 heists through disguise and deception without shooting anyone and made two million dollars in the decades of 1920-1950.
It is a series that I liked a lot from the beginning. My favorite characters are the Professor, Berlin and Nairobi.
Élite (Elite)
We now move on to a series with a more youthful theme. "Elite" is a Spanish series that began airing in 2018. It has five seasons and the sixth is being shot. The main actors are Itzan Escamilla, Miguel Bernardeau and Ester Expósito.
The series tells the life of a group of wealthy students from high society who study at the exclusive private school "Las Encinas". The differences between rich and poor lead to a murder that the police will have to solve.
I haven't watched this series, but more than 127 million people all over the world have watched it!
Valeria (Valeria)
It is a Spanish series based on the novels by Elísabet Benavent and that began to be broadcasted in 2020. It has two seasons and this year, 2022, the third and final season premieres. The leading actors are Diana Gómez, Silma López, Paula Malia, Teresa Riott and Maxi Iglesias.
The series tells the story of Valeria, a writer who is going through a crisis in her marriage and has the support of her three best friends. I have seen the series and I like it. It perfectly reflects the daily life of a group of young women living in Madrid. It is an erotic comedy that we could say is the Spanish version of Sex and the City.
Los herederos de la tierra (Heirs to the Land)
Although it was released in 2022, it is actually the second part of a series that went a bit unnoticed called "The Cathedral of the Sea" (La catedral del mar). These two series are for those of you who, like me, love medieval history.
"The Cathedral of the Sea" is based on the book of the same title written by Idelfonso Falcones. It began broadcasting in 2017, it has one season and tells the story of Arnau Estanyol who works on the construction of a church in Barcelona in the 14th century. Arnau's life is a story of overcoming, in which he rises from humble origins to a high position in Barcelona's medieval society.
"Heirs to the Land" takes us to Barcelona at the end of the 14th century and tells the story of the young Hugo Llor, son of a deceased sailor, who has the support of one of the most respected men in the city: Arnau Estanyol . Hugo's dream is to become a shipbuilder but to do so, he will have to face the powerful Puig family.
It is funny because in "The Cathedral of the Sea" the main character (Arnau) is played by the actor Aitor Luna and in "Heirs to the Land", the main character (Hugo) is played by the actor Yon González, who is the brother in real life of Aitor Luna. Other great Spanish actors that you are going to see in these two series are Michelle Jenner, Elena Rivera and Rodolfo Sancho.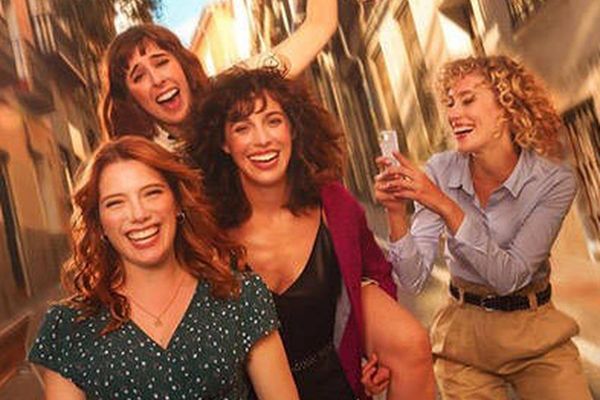 2022 premieres
We continue with the best shows to learn Spanish that have been released in 2022.
Bienvenidos a Edén (Welcome to Eden)
It is said that this series starring Amaia Aberasturi, Belinda, Amaia Salamanca, Lola Rodríguez and Berta Vázquez, is one of the best suspense series of the year.
It all starts with an invitation to a party for influencers with thousands of followers on their social media. The party takes place on an exclusive island and is to promote a product. So far, everything is normal. The interesting part begins the next morning, when strange events begin to happen on the island and the guests discover that it will not be easy to get out of there.
Feria: la luz más oscura (Feria: The Darkest Light)
It's a high-quality horror thriller. It stars Carla Campra, Ana Tomeno, Isak Férriz and Marta Nieto.
It tells the story of two sisters, Alicia and Sofía, who have to face a horrifying situation: their parents have disappeared after having murdered more than 20 people. The story takes place in a small town in Andalusia, Feria, where all the neighbors hate the girls, blaming them for these crimes. Little by little, the two sisters discover that there is a sect in the town, fantastic beings and a mine that looks like a labyrinth.
Entrevías (Wrong Side of the Tracks)
This series is killing it and part of the credit goes to the great actor José Coronado, who stars in the series alongside Luis Zahera, Felipe Londoño and Nona Sobo.
The story takes place in the Madrid neighborhood of "Entrevías". Tirso Abantos, a war veteran, and his 17-year-old adoptive granddaughter, Irene, live there. Irene finds herself in trouble because of a conflictive boyfriend and the bad atmosphere in the neighborhood due to the arrival of some criminals. That's where the real story begins, when Tirso decides to confront the street gangs to protect his granddaughter.
Intimidad (Intimacy)
This series reflects on the limits of intimacy on social media, as it tells the story of a promising politician whose career is cut short by a sexual video of hers that has been leaked without her consent. It stars some of the best Spanish actresses of the moment: Itziar Ituño, Patricia López Arnaiz, Verónica Echegui, Ana Wagener and Emma Suárez.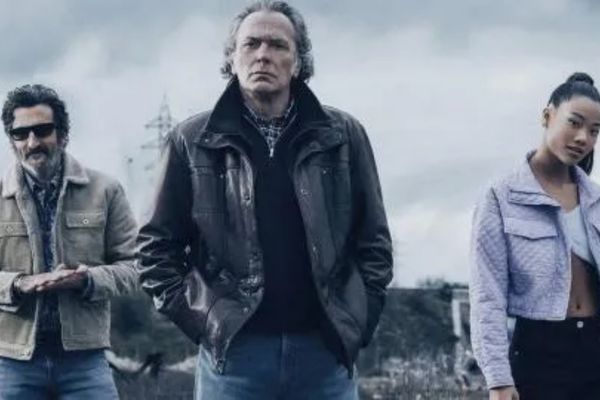 Latin America Series
We finish our review of the best Netflix shows to learn Spanish in 2022 with the magnificent series that have come from Latin America.
Café con aroma de mujer (The Scent of Passion)
It has been the surprise of the season and one of the main reasons for it is the main character, the (extremely) handsome Cuban actor William Levy. Along with him, Laura Lodoño, Carmen Villalobos and Mabel Moreno work in this series.
This Colombian soap opera is a remake of the original from 1994. It tells the story between Gaviota, a farmer, and Sebastián, the son of an aristocratic coffee-producing family. In fact, the starting point is that Sebastián is married to Lucía, but after years together, the marriage begins to deteriorate. Just at that moment, Gaviota appears, the love of the youth of Sebastian. We already have the love triangle!
La Reina del Flow (The Queen of Flow)
This series is a musical. Personally, I don't like musicals. But I think it's a good ending for you to have different styles, stories, and accents in this listing.
This series tells the story of Yeimy, a 16-year-old Colombian singer who has a special talent for songwriting. In her teens, she is in love with Charly, her classmate and her inspiration to write songs. Unfortunately, Yeimy's parents are killed and she unjustly ends up in prison. She spends 17 years in prison and when she regains her freedom, that's when the really interesting part of the story begins, where she carries out her revenge against Charly and all those who conspired against her to be sent to jail.
It stars Carolina Ramírez, Carlos Torres and Andrés Sandoval.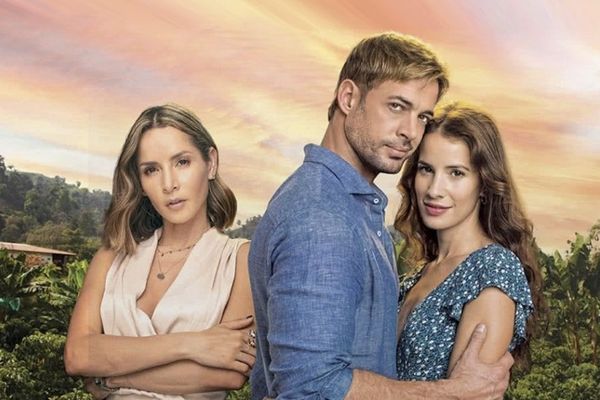 What to do, apart from watching series in the original version, to learn Spanish?
You can learn a lot by watching series in the original version. From an educational point of view, by watching the series you can learn colloquial expressions, slang, pronunciation, intonation, use of vocabulary in context… I watch many series in English to practice my English, but to learn, you need support in classes with a native and accredited teacher where you learn the basics of grammar and vocabulary that will allow you to enjoy your moment on the couch watching your favorite series in Spanish.
Do you think you will start watching any of the series on the list?
I hope so 😉