This is one of our most read articles: The 10 best Netflix series to learn Spanish in 2023. And I think it is going to become a classic on our Mondo y Lirondo blog, because it is a great way to practise and learn Spanish.
In this year's list they repeat two series from the 2022 list, but I couldn't leave them out because they are really good. Eight new series have entered the list, in which you will find mystery, love, comedy, horror, adventure… I always try to have variety in the themes and also in the accents. Because watching the series is a fantastic way to practise the accents of Mexico, Argentina, Colombia, Spain…
Before discovering the 10 best Netflix series to learn Spanish in 2023, we are going to remember some tips with which you can make the most of this time in front of the television:
* Consistency is the key to progressing in your Spanish. I always recommend having a high consistency rate and a medium or low intensity pace. Practise a little Spanish every day by reading a book or an article, listening to a podcast, following someone from Spain or Latin America on social media… or watching an episode of your favourite Spanish series, which usually last 45 or 50 minutes.
* Choose themes that you like (there is a wide variety!) and choose different accents. For example, to practise my English, I watched Friends (with an American accent), The Crown (with a British accent) and Indian Matchmaking (with an Indian accent).
* If you are a beginner student or lower intermediate level, I advise you to use subtitles. This way you can see the written words at the same time you hear them. This helps to mentally register the newly learnt words. If you are a more advanced level student, you can safely watch the series without subtitles.
Now, let's prepare the popcorn!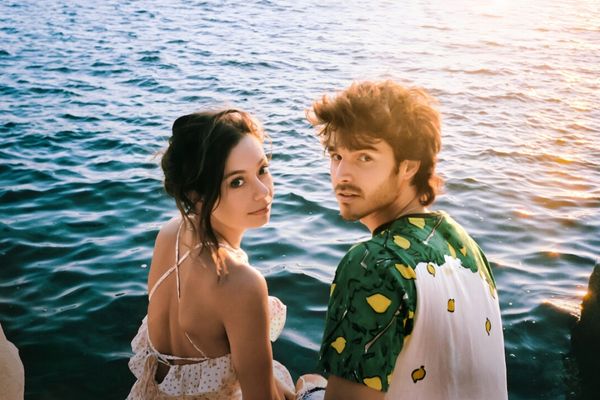 The best Netflix series to learn Spanish in 2023
We start with the best series to learn Spanish in 2023 that have had the best reviews and the highest scores from the audience.
1. Un cuento perfecto (A Perfect Story)
It is a Spanish romantic comedy based on the novel of the same name by Elísabet Benavent. It stars Anna Castillo (Margot in the series) and Álvaro Mel (David in the series).
Margot is a rich girl, the heiress of a very important hotel empire in Spain. David is a humble boy who needs three jobs to survive and who sleeps on the couch in his best friends' apartment. Chance (or destiny) causes their paths to cross and, although it seems impossible, they discover that they have many things in common. Initially, they plan to help each other to get their respective partners back.
2. Pálpito (The Marked Heart)
Colombian series that mixes drama and thriller. It stars Michel Brown (Simón Duque in the series), Ana Lucía Domínguez (Camila Duarte in the series) and Sebastián Martínez (Zacarías Cienfuegos in the series).
Simón's wife is mysteriously murdered to take her heart away from her. The murder and robbery committed by gangsters, who are involved in organ trafficking, have been ordered by Zacarías Cienfuegos, a powerful millionaire. He is doing this to save his wife, Camila, who is critically ill in the hospital and on the verge of death.
Simón wants to avenge the murder of his wife, and to do so he enters the dangerous world of human organ trafficking. Once again, chance (or destiny) causes Simón and Camila to cross paths and Camila's heart will begin to feel inexplicable things.
3. La chica de nieve (The Snow Girl)
Spanish thriller based on the novel of the same name by Javier Castillo. The story takes place in Malaga (Andalusia) and therefore you will hear the Andalusian accent from southern Spain.
It stars Milena Smith (Miren in the series), the great José Coronado (Eduardo in the series) and Auxa Villagrá (inspector Belén Millán in the series).
The story begins at the Three Wise Men parade in Malaga, in 2010, when a little girl, Amaya Martín, mysteriously disappears and her parents' nightmare begins. Miren, a young trainee journalist, begins an investigation with the aim of finding the girl. She will be helped by Eduardo, a journalist colleague with a lot of experience in his career. In parallel, the police, with Inspector Millán in charge, carry out the official investigation to find little Amaya.
In my opinion, one of the best series on this list.
4. Sky rojo (Sky Rojo)
Spanish drama series in which you will hear Argentine, Cuban and Spanish accents.
It stars Verónica Sánchez (Coral in the series), Lali Expósito (Wendy in the series), Yani Pardo (Gina in the series), Miguel Ángel Silvestre (Moisés) and Enric Auguer (Christian).
The story narrates the lives of three prostitutes, Coral, Wendy and Gina, who endure harsh conditions while residing in an unpleasant camp situated next to the brothel they work in where they are subjected to sexual exploitation. One day, after a strong argument with the owner of the brothel, they attack him and leave him badly injured. Quickly, they decide to flee and leave that life behind. The three women embark on a road trip towards their freedom, pursued by the two hit men of the brothel owner: Moisés and Christian.
Continue practising your Spanish with the best series to learn Spanish of 2023
We continue this ranking with the following three best series to learn Spanish of 2023 valued by the audience.
5. Valeria (Valeria)
It is a Spanish romantic comedy based on the novels by Elísabet Benavent.
It stars Diana Gómez (Valeria in the series), Silma López (Lola in the series), Paula Malia (Carmen), Teresa Riott (Nerea) and the gorgeous (😍) Maxi Iglesias (Víctor).The series tells the story of Valeria, a writer who is going through a crisis in her marriage and has the support of her three best friends: Lola, Carmen and Nerea. It perfectly reflects the daily life of a group of young women living in Madrid. It is an erotic comedy that we could say is the Spanish version of Sex and the City.
6. Los pacientes del Doctor García (The Patients Of Dr. Garcia)
It is a Spanish drama series based on the novel of the same name by Almudena Grandes.
It stars Javier Rey (Dr. Guillermo García in the series), Tamar Novas (Manuel in the series) and Verónica Echegui (Amparo).
The story tells the life of Dr. Guillermo García, a communist who remains living in Madrid after the victory in the Spanish Civil War by the Francoists. To survive, Dr. García is forced to change his identity and adopt the false name of Rafael Cuesta. He is helped by his friend Manuel Arroyo, a spy for the Republican side.
7. Sagrada familia (Holy Family)
Spanish intrigue series that revolves around motherhood.
It stars Najwa Nimri (Gloria / Julia in the series), Alba Flores (Caterina in the series), Carla Campra (Aitana / Mariana in the series) and Iván Pellicer (Abel / Eduardo).
Julia is a woman who comes to live in the Fuente del Berro neighbourhood, under the false identity of Gloria Román. Her children follow her, also with false identities. The three are fleeing a dark past and hope to start a new life in the new neighbourhood. Gloria will soon establish a strong friendship with three of her neighbours. The four of them have two things in common: they are mothers and they hide secrets. Their friendship seems perfect until their secrets and pasts begin to come to light. It is then that it will be discovered what a mother is capable of to protect her family, the most sacred thing she has.
Series to watch on Netflix if you love learning Spanish and… Suspense!
We finish our review of the best Netflix series to learn Spanish in 2023 with three suspense thrillers (all three highly rated by the audience).
8. Bienvenidos a Edén (Welcome To Eden)
Spanish suspense series.
It stars Amaia Aberasturi (Zoa), Amaia Salamanca (Astrid), Lola Rodríguez (Maika), Belinda (África), Tomy Aguilera (Charly), Diego Garisa (Ibón)…
It all starts with an exclusive invitation to a party for influencers with thousands of followers on their social media accounts. The party takes place on a remote island and the agenda for the party is to promote a product. So far, everything is normal. The interesting part begins the next morning, when strange events begin to happen on the island and the guests discover that it will not be easy to get out of there.
9. El silencio (Muted)
Spanish psychological thriller.
This series stars Arón Piper (Sergio in the series) and Almudena Amor (Ana in the series).
The story tells how Sergio leaves prison, where he has been imprisoned for six years after murdering his parents when he was still a minor. During all these years, Sergio has been silent, he has not said a single word. He has not collaborated with the justice system, nor with his lawyers, nor with the prison's social services. Therefore, his parents' crime and his current intentions are a mystery. Ana, a young psychiatrist, will be in charge of secretly monitoring Sergio to try to find out what his true intentions are.
10. El desorden que dejas (The Mess You Leave Behind)
Spanish suspense series based on the novel of the same name by Carlos Montero. It has been recorded in small towns and places in Galicia, so you will hear the accent and the Galician language.
It stars the great Inma Cuesta (Raquel in the series), Bárbara Lennie (Elvira, 'Viruca', in the series) and Roberto Enríquez (Mauro).
In my opinion, along with The Snow Girl, the other great series on this list.
Raquel is a young literature teacher who is starting the new course at the high school in the small town of her husband, in Galicia. On her first day of school, she discovers a note with a death threat to her. When she begins to investigate the matter, she discovers who the previous teacher at her position was (Viruca) and the influence she had on the lives of all of her students.
Raquel will begin her own search to discover the truth in a place where everyone seems to keep secrets.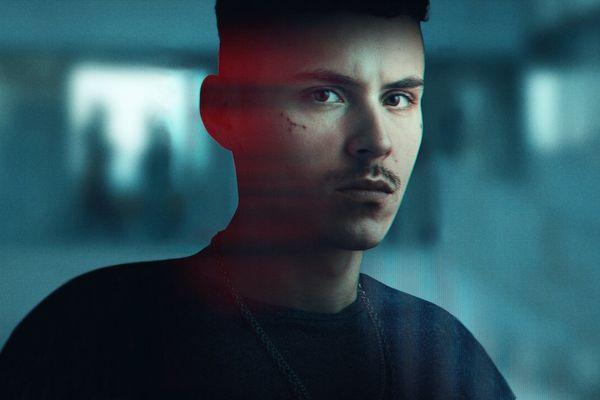 What to do, apart from watching series in their original version, to learn Spanish?
You can learn a lot by watching series in their original version. You can learn colloquial expressions, slang, pronunciation, intonation, use of vocabulary in context, accents… I watch many series in English to practise my English, but to learn, you need to rely on classes with a native and accredited teacher in a planned and organised way, with the guidance and experience of your teacher.
You can take a look at our catalogue of Spanish classes or our Membership Programme. You can also book your trial class with us today and meet your teacher.
Do you think you will start watching any of the series on the list?
I hope so 😉