Beginners Spanish Lessons is the first step to discover the amazing culture and geography of more than 20 countries in the world. Not to mention , they are the key to starting new relationships with native Spanish speakers that could bring joy and new perspectives into your life. The best way to take advantage of beginners Spanish lessons is with courses in Spanish language which are adapted to your level. With practice and consistency, you will be able to start understanding and speaking Spanish and one day… There you will be! At the airport! On your way to Spain to spend your summer holidays on an incredible Spanish beach.
Beginners Spanish lessons: Playa or cala?
One of the first beginners Spanish lessons in this article has to be learning the difference between playa and cala, because in Spain you can find the two of them.
Calas are smaller beaches usually surrounded by rocks or rocky terrain. Because of this special orography, callas usually are quieter and less urbanised than playas.
Playas are bigger and more open, usually with a nice promenade nearby.
Let's begin with the first five playas and calas that you can't miss if you come to Spain.
Playa de Las Teresitas (Tenerife, Canary Islands)
This is one of the most famous beaches on the island. It is next to the small town of San Andrés and only 20 minutes by car from Santa Cruz de Tenerife. There are urban buses that go from the city centre to Las Teresitas beach. I was at this beach in June 2019 and it is an ideal place to go with children and family.
Cala Futadera, Tossa de Mar (Girona, Catalonia)
Tossa de Mar is one of the most beautiful towns in Spain. Apart from its beautiful medieval wall (declared a National Historic-Artistic Monument in 1931), in Tossa de Mar you can find some incredible calas. Cala Futadera is one of them and its peculiarity is that it is a nudist cala, surrounded by cliffs and pine trees.
Playa de Bolonia (Cádiz, Andalusia)
This beach is magical thanks to its almost four kilometres in length, its crystal clear waters and its fine white sand. It has a dune almost 30 metres high that was declared a Natural Monument in 2001. I visited this beach in April 2015 and it is perfect for meditating, doing yoga, walking… and just relaxing.
Playa de las Canteras (Las Palmas de Gran Canaria, Canary Islands)
The beautiful Canary Islands are also known in Spain as "the lucky islands". Why? Because they enjoy a wonderful climate throughout the year. And of course, the Canarian residents can go to its beaches in any season of the year. Specifically, Las Canteras beach in Las Palmas de Gran Canaria is a vibrant beach due to its colours, smells, sights and sounds. Some of these sounds comprise of conversations of the residents, with the beautiful Canarian accent when speaking.
Cala Macarella y Cala Macarelleta (Menorca, Balearic Islands)
Cala Macarella and Cala Macarelleta are two of the most popular calas in Menorca. To get to them you have to drive along the island's picturesque roads. You can enjoy the landscape of pine trees, Mediterranean forest and country houses before reaching these calas that have good access by car. I visited Cala Macarella with my friends in October 2013 and I remember the special energy of the place, with crystal clear blue waters and white sand. Wonderful!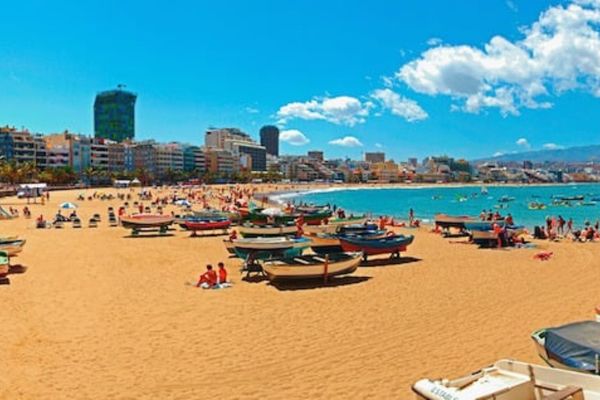 Beginners Spanish lessons: Restaurante, bar or chiringuito?
After learning the difference between playa and cala, the next beginners Spanish lesson of this article is learning the difference between restaurante, bar y chiringuito because in Spain, you can find them all near to many beaches.
A restaurante is the most formal of the three establishments. Normally it is where you can have lunch or dinner sitting on the terrace or inside the restaurant and enjoy a meal quietly for more than an hour.
A bar is a bit more casual than a restaurant. You can eat sitting on the terrace or have a few beers and delicious traditional tapas standing at the bar. Normally a bar is smaller than a restaurant.
A chiringuito is the most informal of the three establishments. Sometimes, it is simply a small booth with a bar to serve customers. Sometimes, it can also have a terrace. In a chiringuito, usually, the food is less elaborate than in a restaurant… But just as delicious!
Let's continue with the following three beaches that you cannot miss if you come to Spain.
Playa de los Genoveses (Almería, Andalusia)
This is one of the most famous beaches in the Cabo de Gata-Níjar Natural Park, in Almería. The landscape that surrounds the beach is overwhelming. There is a regulation within the park to guarantee sustainable tourism, therefore, access to this beach is controlled and restricted (especially in summer). I was on this beach in August 2015 and exploring the beautiful natural park till you reach the beach was something very special.
Cala Granadella (Alicante, Valencian Autonomous Region)
In any list of the best beaches in Spain, Cala Granadella, in Alicante, always appears. It is a hidden and paradisiacal corner of transparent waters where you can practice scuba diving.
Playa de Talamanca (Ibiza, Balearic Islands)
Ibiza could not be missing from this article and Talamanca beach is one of the best known and most beautiful beaches in Ibiza. It is well protected from the winds, it is shallow and has fine sand. It has many leisure services and it is a beach where smoking is prohibited.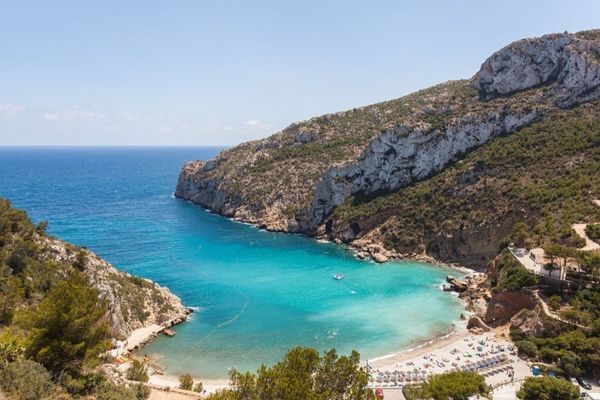 The north of Spain has an Atlantic climate, with milder and rainier summers and winters than the rest of the country. Although it is better known for other claims such as the Camino de Santiago, in the north of Spain you can find spectacular beaches and enjoy landscapes and gastronomy that you will never forget.
Playa de Sopelana (Vizcaya, Basque Country)
This beach is very close to Bilbao and is a wilder beach than the ones we have seen before. The cliffs meet the sea and it is common to see fans practising surfing and bodyboarding.
Playa de La Concha (San Sebastián, Basque Country)
We end this tour of the best Spanish beaches with the queen of the beaches of northern Spain: La Concha beach (The Shell beach), in San Sebastián. This beach, which is in the heart of the city, is one of the icons of the city. A curiosity: in San Sebastián one of the most important film festivals in Spain is celebrated and the prizes that are awarded are the "silver shells" in honour of this beautiful and beloved beach of the people of Donostia (Vasque Country).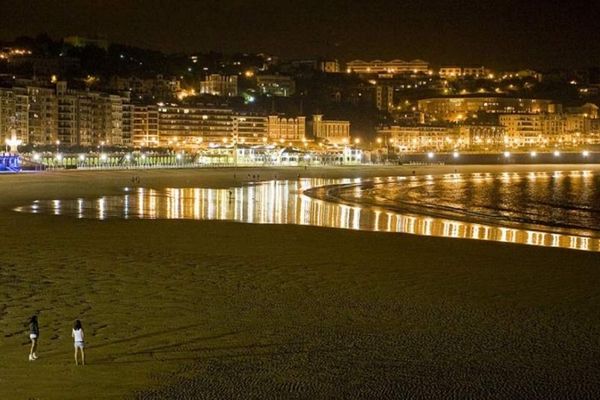 Take a chapuzón in Spanish with our Online Courses
The last part of the article in beginners Spanish lessons is to explain the meaning of the word chapuzón which literally means to get fully into the water.
Immerse yourself in Spanish and learn at your own pace with our 15 – 30 minute online Spanish courses. Practice grammar, vocabulary, pronunciation, conversation and everything you need to enjoy your next vacation in Spain 😉