Spanish Christmas traditions are a representation of our rich cultural past (Celts, Muslims, Christians…) and the important role that family and friends play in our social life.
In this article, you are going to discover some of the most important dates of Christmas holidays for Spaniards. You will also learn Spanish Christmas vocabulary because I will introduce you to some of our native foods, musical instruments and ornaments.
Truth is, after writing this article, I was surprised by the amount of things that Spaniards do during the two weeks that Christmas lasts… I am beginning to think that it would be a good idea to have a post-Christmas vacation to recover from so much hustle and bustle!
Spanish Christmas: important dates
According to the Dictionary of the Spanish Language, one of the definitions of Christmas is 'the time between Christmas Eve and the day of the Three Wise Men.'
In this 14-day period, we Spaniards celebrate many events that are important for us. Although, in reality, Christmas in Spain begins just before Christmas Eve. The kick-off for our Christmas celebrations takes place on December 22, with the traditional and exciting Christmas Lottery!
1. Lotería de Navidad: 22 de diciembre
(Christmas Lottery: December 22)
It is the most popular lottery draw in Spain and it took place for the very first time on December 18, 1812 in Cádiz.
Tickets go on sale in mid-July and the draw is held every year at the Royal Theater in Madrid. During the morning of December 22, the children of San Ildefonso School sing the lucky numbers and prizes of the lottery. The most anticipated moment is the first prize, also known as 'el Gordo'.
2. Nochebuena: 24 de diciembre
(Christmas Eve: December 24)
The night of December 24 is a family night in Spain. We Spaniards gather together with our families for dinner.
The most typical dishes served that night are appetizers or Spanish tapas seafood, cheese, ham, chorizo,… roasted meat in the oven (lamb or pork), roasted fish in the oven (sea bream or sea bass) and Christmas desserts (nougat – 'turrón', marzipan – 'mazapán' and polvorones).
After dinner, many people go to the 'Misa del Gallo'. This Catholic mass takes place from midnight and commemorates the birth of Jesus of Nazareth.
3. Navidad: 25 de diciembre
(Christmas Day: December 25)
On Christmas Day, Spanish families gather to eat at noon. This is the moment when they exchange their Christmas presents and open them around the Christmas tree.
In Spain, we like to sing and dance, that is why we do not miss traditional Christmas carols on Christmas Day. These popular songs are sung in many countries around the world. But in Spain, the musical instruments that are generally used are the guitar ('guitarra'), the 'zambomba' and the tambourine ('pandereta') (here you have good examples of Spanish Christmas vocabulary).
4. San Esteban: 26 de diciembre (Cataluña)
(Saint Stephen: December 26 – Catalonia)
This Spanish Christmas tradition is typical of the Catalonia region.
In the Middle Ages, this was the day that the Catalans returned home after celebrating Christmas in farmhouses in rural areas ('masías'). Today, families meet at noon to enjoy typical dishes such as cannelloni, stuffed chicken, round beef, neules and nougats.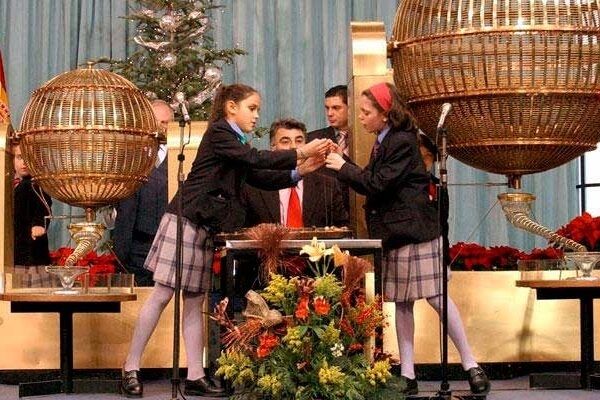 Religious influence on Spanish Christmas traditions
Since the Middle Ages, the Catholic religion has been a fundamental pillar of Spanish culture and society. For this reason, many of our Spanish Christmas traditions commemorate important moments in the life of Jesus of Nazareth.
5. Santos Inocentes: 28 de diciembre
(Innocent Saints: December 28)
This day commemorates the slaughter of children who were under two years of age, born in Bethlehem (Judea), ordered by King Herod I the Great to eliminate the threat posed to his throne by the newborn, Jesus of Nazareth.
This king was famous in his time for his obsession with power, murdering several of his relatives because he suspected that they wanted to supplant him. So when the priests prophesied the arrival of the future king to be born in Bethlehem, Herod made this drastic decision.
Despite its macabre origin, this day is celebrated in Spain and Latin America by making jokes of all kinds. It is traditional for the media (television, radio and newspapers) to also participate by publishing false and funny news.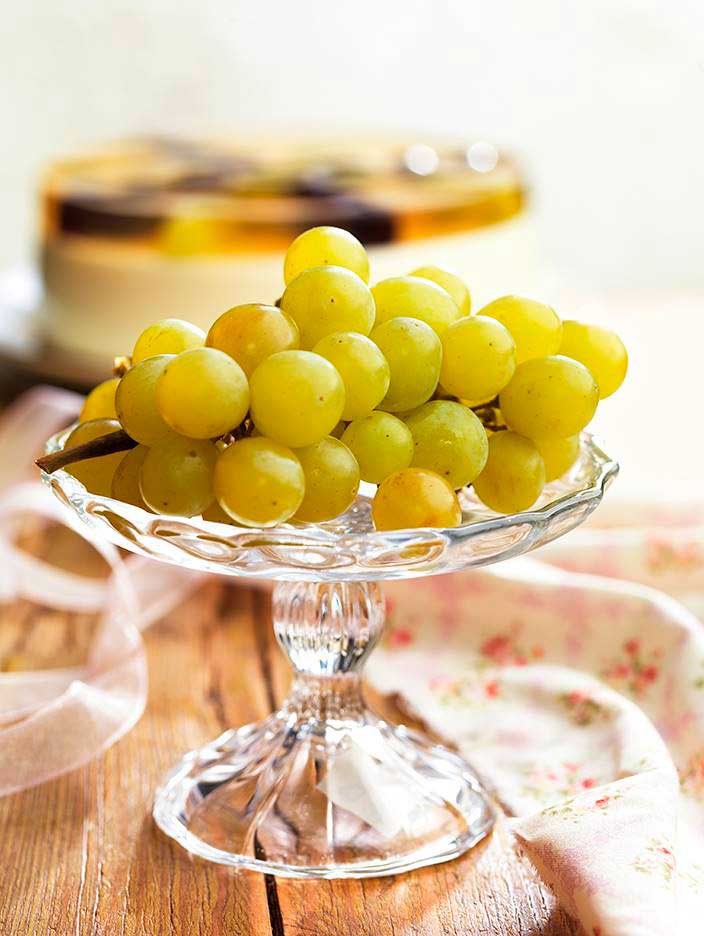 6. Nochevieja: 31 de diciembre
(New Years Eve: December 31)
It is the last night of the year and in Spain we celebrate it with family or friends. Our tradition is to eat 12 grapes at midnight, while we listen to the 12 chimes (usually from the Puerta del Sol clock in Madrid).
This tradition dates back to 1909. In December of that year, some vine growers in the province of Alicante popularized this custom to better sell the excess grape production they had during that season. Tradition says that eating these 12 grapes will bring us a new year full of good luck and prosperity.
7. Año Nuevo: 1 de enero
(New Year: January 1)
After a night of celebration, January 1st is a calmer day in Spain. We meet the family for a quiet lunch at noon.
8. Noche de Reyes: 5 de enero
(Twelve-day, Epiphany: January 5)
On the evening of January 5, grandparents, parents and children go out to the streets to watch the traditional Three Wise Men Parade together. In this parade, the three Wise Men (Gaspar, Melchor and Baltasar) and their pages and assistants, go through the streets of the cities and towns of Spain throwing candies and sweets to the children.
After the parade, their majesties spend the night of January 5th delivering gifts at the homes of all the children who have behaved well during the year.
This Spanish Christmas tradition had its origin in Alcoy (Alicante, Spain) in 1866. Today, the Cabalgata de Alcoy is declared a festival of National Tourist Interest.
9. Día de los Reyes Magos: 6 de enero
(Wise Men Day, Three Kings Day: January 6)
We arrive on the last day of Christmas in Spain. This is a busy morning in which there are many things to do. First of all, the youngest ones in the house get up early to see what gifts the Magi have brought them.
Afterwards, you have to go to the bakery or pastry shop to buy the 'roscón de Reyes' (here is another good example of Spanish Christmas vocabulary).
The 'roscón de Reyes' is a traditional Spanish Christmas dessert. It is round in shape, with a hole in the center. Inside it is usually stuffed with cream and hides a surprise. It is garnished with candied fruit and dried fruit and is generally eaten as a dessert after lunch or as a snack with hot chocolate.
Spanish families get together that day to eat at noon or for an afternoon snack like 'roscón de Reyes' and a cup of hot chocolate.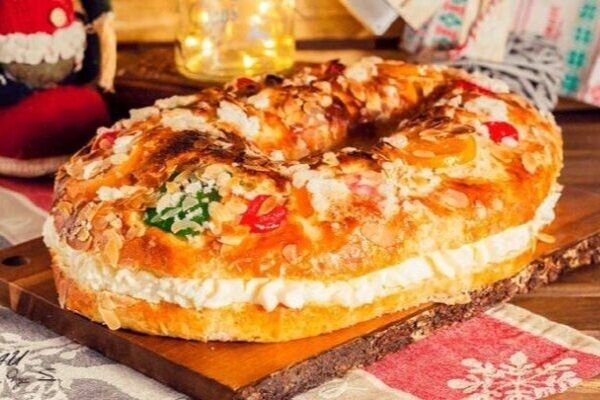 Would you like to learn more about Spanish Christmas?
These 9 Spanish Christmas traditions are just a small sample of our Christmas celebrations. Famous are the Spanish nativity scenes – 'el belén' (with the 'caganer' in the Catalonia region) or the beautiful Christmas markets in Madrid, Bilbao, Valencia… So, if you want to learn more about Spanish Christmas traditions or about Spanish culture in general, try our collection of online Spanish courses.
Your Spanish Hub is a dedicated platform for you to improve your Spanish with online Spanish classes. Visit our website to find out more about our individual Spanish Lessons, our Conversation Lessons or our Lessons for Kids and Teens. Get in touch now to schedule a trial lesson with one of our expert native teachers.
Enjoy these days with your family, with your friends, traveling alone, reading on the couch, eating, watching television, walking in the countryside or doing what you like the most. In the end, we each choose and enjoy our own Christmas traditions. With all my heart, I wish you…
¡Feliz Navidad! Merry Christmas!